---
---
In his decade-plus of producing programming for Travel Channel, Andrew Zimmern has traveled to more than 170 countries to sample unusual and exotic dishes, take in the culture and meet the people.
But in the Season 12 premiere of "Bizarre Foods" on Tuesday, Jan. 23, he finds inspiration in his own backyard – on Minnesota's Paul Bunyan Trail.
"I live in Minnesota," Zimmern explains, "and I want to tell as many stories about Minnesota as I can. I believe that human beings are meant to grow where they're planted and obviously we all know the most about the places where we live. And the Paul Bunyan Trail in Northern Minnesota is one that's never really been explored outside of a handful of very small documentaries that have never been seen. So I wanted to show people what the folks in Northern Minnesota looked like and how they lived and what they ate."
---
On the 120-mile system of former logging trails converted for recreational use, Zimmern takes viewers along as he learns more about the larger-than-life logger and his faithful blue ox Babe, participates in a lumberjack contest, visits a horseradish festival and tries such local creations as muskrat with gravy ("deliciously mild and porky," he says), bear pastrami, duck stew and crayfish at a crayfish boil.
Yes, good-size crayfish are plentiful in Minnesota lakes and are even considered an invasive species, brought there by boats and fishermen. At restaurants and markets, however, they're looked on as a local delicacy that is difficult to find at a reasonable price outside of Minnesota and Louisiana.
"The animals themselves thrive," Zimmern says, "they grow to eating size quickly, there are very few predators but they don't represent the problem in the sense that wild boars in Louisiana or milfoil or zebra mussels do in our state that choke out other life. … Some will grow up to two or three inches long with big, large claws. They're delicious. Beautiful, traditional crayfish-eating size. Cooked up nice and red, tastes delicious."
Other themed adventures for Zimmern on "Bizarre Foods"  this season include Napoleon's march through Poland, Germany's Romantic Road, the Amalfi Coast of Italy and Jesse James' exploits in Missouri.
---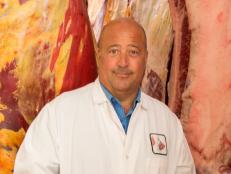 What book are you currently reading?
"It's sitting on my bedside table. It's Hemingway and I just started it, 'The Sun Also Rises.' "
---
What did you have for dinner last night?
"I came back from five days of Christmas food insanity with my family, so I ordered sushi from my local take-away."
---
What is your next project?
"We're working on selling the first Andrew Zimmern cookbook that we sort of purposely waited about 10 years to put out there. … Super Bowl is in our face. I'm on the host committee and the food committee and we're doing a ton of activations here during Super Bowl weekend, so that's something that's really dominating everything we're doing. And my production company, Intuitive Content, is working on some big, new shows for summer and fall 2018, so that's always chugging away.
---
When was your last vacation, where and why?
"I haven't had a vacation in two or three years. Everyone tells me I need one. Costa Rica. I love Costa Rica. Beautiful country, great people. I found a hidden, little piece of beach there that I've gone to three or four times that I just love. … It's in the southwest."