---
TV PIPELINE
Q: With Meghan McCain leaving "The View," will Ana Navarro be made a regular panelist now? — Kristin Moss, via e-mail
A: Writing this response before a decision has been announced, that certainly would seem to be an option being considered seriously by ABC in determining who secures that seat at the (lately virtual) table for the weekday show's upcoming 25th season. It's always a huge move to fill one of those co-host slots on a permanent basis, and it's also likely to be factored in that McCain was the lone conservative voice among the regulars in the frequently political conversations.
If you look at the history of "The View," it has encompassed quite a diverse range of people who have had a sustained tenure there, from series originator Barbara Walters, Meredith Vieira and Star Jones to Rosie O'Donnell, Elisabeth Hasselbeck and Jenny McCarthy. There's no guarantee that McCain's successor will be a woman, either — CBS' "The Talk" has enlisted some male co-hosts since recent departures on that show — but you can be pretty certain that it will be decided by the time "The View" launches its new season in September.
---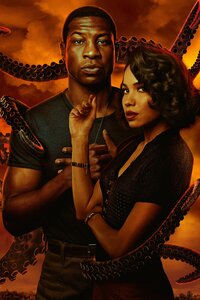 Q: I was disappointed to read that even though a Season 2 of "Lovecraft Country" was ordered, there won't be one now. Why? — Greg Ryan, Grand Junction, Colo.
A: The provision was, since the first season of the HBO series had pretty used up the material from Mark Ruff's novel, that an original second round satisfactory to all involved parties — including HBO executives — could be devised. Evidently, that didn't turn out to be the case, though an extensive "bible" had been created for a sophomore round of the show.
It can be tricky to continue a series that was meant only to be "limited" initially, especially in maintaining the saga's spirit. HBO has faced that several times, notably in extending "Big Little Lies" past the Liane Moriarty novel (though it was able to keep teleplay writer David E. Kelley on board, a very important factor). The cable network is in a similar situation with the Kaley Cuoco-starring "The Flight Attendant," which will need to move beyond Chris Bohjalian's novel for its Season 2.
---
Q: What has happened to the Hitchcock thriller "Notorious," which starred Ingrid Bergman and Cary Grant? No channel, including Turner Classic Movies, shows it anymore … even during a Hitchcock marathon. — Barry Fenstermacher, Millerton, N.Y.
A: Well, nothing has "happened" to it. It still exists, it's simply a question of whether it gets scheduled for telecasts, and even more basically whether any television outlet has the rights to show it. Since Ted Turner bought the RKO Radio Pictures library — of which "Notorious" is a part — when TCM launched, that film should be available to the channel.
However, we suspect there may be some sort of rights issue there. That's particularly the case since the movie isn't part of the "Summer Under the Stars" tribute day to Bergman that TCM will present on Aug. 29. That's a major credit for the actress (as well as for Hitchcock and Grant), even belonging to the National Film Registry, so its absence suggests to us that there is some reason the film currently can't be shown there.
---
Q: I noticed that on the same day recently, "The Boss Baby: Family Business" started both in theaters and on Peacock, while "The Tomorrow War" premiered only on Amazon. Who decides which movies open only in theaters or also on a streaming service? — Diane Sloane, via e-mail 
A: It's really up to the studio behind each movie. What largely started this was the decision by Warner Bros. to put "Wonder Woman 1984" plus its entire 2021 slate of films on HBO Max at the same time each film opened in theaters … bearing in mind that fewer theaters were available at first, with the campaign against the coronavirus pandemic at a different stage then.
Paramount Pictures sold "The Tomorrow War" to Amazon outright (as it had done earlier with Eddie Murphy's sequel "Coming2America"), while Universal Pictures pretty much used the Warner Bros. model for the "Boss Baby" sequel, simultaneously putting it in theaters as well as on the NBC Universal corporate-cousin service Peacock. As also demonstrated lately by "F9" (in theaters only) and "Black Widow" (in theaters and, for an additional charge to viewers, on Disney+), it's likely to remain a mix of the release strategies for at least a while.
Send questions of general interest via email to tvpipeline@gracenote.com. Writers must include their names, cities and states. Personal replies cannot be sent.