---
---
It's been a tough first half of the NFL season for the Oakland Raiders, who visit the Miami Dolphins Sunday, Nov. 5 on NBC's Sunday Night Football. Running back Marshawn Lynch's return to the NFL and his hometown team after a brief retirement was supposed to be the icing on the cake for the Raiders' high-powered offense led by Derek Carr. But Carr went down early this season with a back injury.
Marshawn Lynch has had one of the more interesting careers in recent decades. A standout at California, his 17 100-yard games are still a school record. He was drafted by the Buffalo Bills in the first round of the 2007 NFL Draft and ran for over 1,000 yards in each of his first two seasons. Injuries and off-field troubles limited his production the following two years, and early in the 2010 season the Bills traded him to the Seattle Seahawks.
Along with quarterback Russell Wilson, Lynch made Seattle's offense into a winner, and when coupled with one of the best defenses in the NFL, the Seahawks enjoyed a 43-8 trouncing of the Denver Broncos in Super Bowl XLVIII. Lynch had four straight 1,000+ yard rushing seasons, earning his "Beast Mode" nickname. After an injury-plagued 2015 season, he opted for retirement.
Lynch's production with the Raiders has been limited. Without Carr, opposing defenses have been stacking the box against the run. Getting the running game going will be the key for another playoff run in Oakland.
Marshawn Terrell Lynch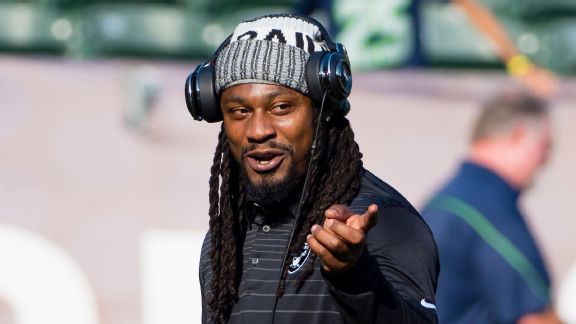 Born: April 22, 1986
Birthplace: Oakland, California
Height/Weight: 5 foot 11 inches / 215 pounds
Teams: Buffalo Bills, 2006-10; Seattle Seahawks, 2010-15; Oakland Raiders, 2017
Position: Running Back
No.: 24
College: California
Drafted: 2007, Round 1, Pick 12
Honors and Achievements: Super Bowl  XLVIII Champion, 2014; Pro Bowl, 2008, 2011-14