---
---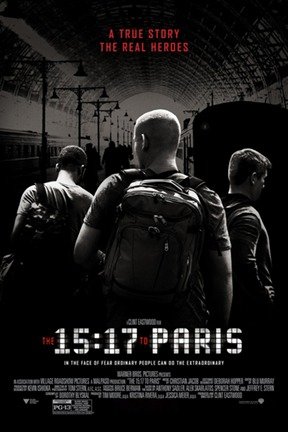 Clint Eastwood is a filmmaker who famously likes to do things his way, so when he says he's going to cast the real people in a movie based on a true story, he probably doesn't get questioned too much at this point.
"The 15:17 to Paris" is an interesting effort, but at the same time, it underscores why actors act – and why those who aren't actors don't. The movie recalls a 2015 incident in which a gunman began firing aboard a high-speed European train, only to be subdued by three American passengers. Those young men, two of whom were in the military, play themselves in the film.
They certainly deserve to be named for their bravery: Spencer Stone, Alek Skarlatos and Anthony Sadler. And yes, there surely is a curiosity value to seeing the actual people the story is about, something that usually happens only fleetingly, if at all, in movies that re-create actual events.
That is bold and commemorative casting by Eastwood, and with all of his expertise on both sides of the camera, you have to figure he knows what he's doing. That also goes for his three true-life stars, at least to the degree of the instincts that led them to become impromptu heroes … but it's one thing to really be heroes, and another to re-enact being that, which puts "The 15:17 to Paris" in a strange netherworld as both a drama and a semi-documentary.
While interesting to watch, it's also an odd fit, particularly in scenes that show the relatively unremarkable fellows just living their lives until fate calls them to action. That they're surrounded by television-familiar actors such as Jenna Fischer ("The Office") and Thomas Lennon ("Reno 911!") also underscores that they're fish out of water when they're not seen on the train.
Of course, though, everything builds to the critical moment aboard the locomotive … which Eastwood stages in his traditionally straightforward way. It's a suspenseful sequence, even with the world knowing how the incident turned out. And it's a curio again to see the three men re-create the motions they went through to defuse a crisis, which probably felt strange for them to be directed through this time, no matter who else was calling the shots.
It seems doubtful that any of the trio will make moviemaking their new calling, but at least for the moment, Clint Eastwood and "The 15:17 to Paris" give them their due.
---