---
"Fiddler on the Roof," original "Father of the Bride" are among features
---
---
Sunday, June 21, is a day for all dads this year … including some of the screen's best.
Turner Classic Movies marks Father's Day in the expected way, as daytime host Alicia Malone and nighttime guide Ben Mankiewicz present a number of films revolving around male heads of households. While each has his own circumstances, and in a variety of stories, all of them share a devotion to their families.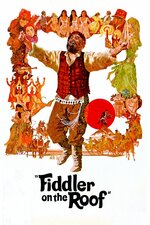 The Dad-themed attractions start early that day with "Fiddler on the Roof," director Norman Jewison's 1971 version of the stage-musical hit, with Topol as milkman Tevye — father to five very marriageable daughters. The morning's Eddie Muller-hosted "Noir Alley" title, Samuel Fuller's "Underworld U.S.A." (1961), even has a parental tie: Cliff Robertson plays a man determined to avenge his father's murder by mobsters.
"Our Vines Have Tender Grapes" (1945) offers one of Edward G. Robinson's most touching performances, as a Norwegian farmer and father in the American Midwest. "The Entertainer" (1960) goes darker with a dad, with Laurence Olivier as a theater performer whose daughter (Joan Plowright, who married Olivier after they did the film and the play that inspired it) knows he's hardly the warm-and-fuzzy type.
The source of a popular television series later (as was Mark Toby's novel), "The Courtship of Eddie Father" (1963) casts Glenn Ford as a widower whose young son (the then-"Ronny" Howard, picking up some early tips on filmmaking) is determined to engineer a new romance for him.
A Father's Day on TCM wouldn't be complete without director Michael Curtiz' "Life With Father" (1947), with a wonderful William Powell as the patriarch of the male-dominated Day family, though a co-star named Elizabeth Taylor also is notable as the love interest of one of the sons. Finally, the original "Father of the Bride" (1950) ends the day on another major-classic note with Spencer Tracy as the father who frets endlessly over the wedding of his daughter, played by … Elizabeth Taylor!
It's no surprise TCM offers an apt tribute to fathers on their "day," and happily, the whole family can share in the enjoyment.
---