---
Movie Review
The Rocky Balboa and John Rambo characters have been the prime successes of Sylvester Stallone's career, but he's had his share of other hits, too.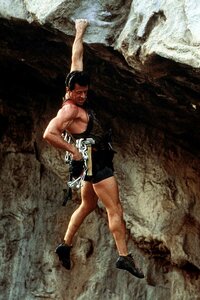 A perfect example is the well-crafted, stunt-crammed 1993 adventure "Cliffhanger," being shown Wednesday, July 28, on EPIX and also currently streaming on Hulu and Paramount+. Directed by action veteran Renny Harlin ("Die Hard 2"), the picture makes great use of scenic and mountainous Italian locations (though the story presumably is set in America's Rocky Mountains) in what amounts to a classic hero vs. villain set-up.
A typically and ideally muscular Stallone plays newly returned rescue ranger Gabe Walker, who's been AWOL after his inability to prevent a tragedy that opens the movie … and also has left him at odds with longtime colleague Hal Tucker (Michael Rooker). However, they're forced literally at gunpoint to team up again by a band of thieves led by a master criminal (an enjoyably scenery-chewing John Lithgow) determined to recover the sizable robbery loot lost in an airborne accident after a U.S. Treasury plane's ill-fated hijacking.
Walker's estranged helicopter-pilot girlfriend ("Northern Exposure" alum Janine Turner) and a veteran ranger (Ralph Waite, alias the dad on "The Waltons") also become caught up in the situation, though Walker and Tucker suffer the most continual physical peril from the enemies, facing everything from avalanches to ice-cave stalactites. But they eventually turn it around: Stallone also co-wrote the script, and if there's a chance for one of the bad guys to meet a gruesome end via Mother Nature, the opportunity is not missed.
Between the time of the theatrical trailer and the full movie's release, though, even the makers of "Cliffhanger" seemed to realize that some of the stunts might seem too incredible. In that coming attraction, Stallone seemed to make a running leap off a bridge onto a distant cliff that looked all but impossible to achieve. The picture's staff evidently agreed, since that scene isn't in the finished film.
Which is not to say that those who appreciate great stunt work will be let down by "Cliffhanger." It's quite the contrary, virtually from the moment the picture begins — with Stallone showing off rock-climbing prowess at a very high altitude, with a panning shot making it appear that it's really him doing it — until the final credits roll. Certain scenes clearly were done under controlled studio conditions (witness the climactic showdown between Stallone and Lithgow aboard a crashed, dangling helicopter), but they're still involving and totally in the spirit of the genre.
An enormous summertime success when it debuted, "Cliffhanger" remains hugely entertaining viewing at this time of year, or any time for that matter … reaffirming that Stallone hasn't always had to be called "Rocky" or "Rambo" to deliver the goods.
---