---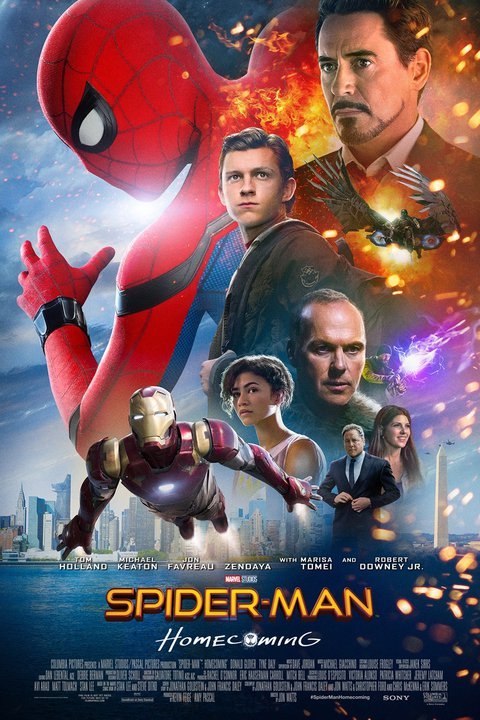 Fifteen years … six movies … three actors. Exactly how many Spider-Men do we need?
Of course, any Spidey fan will argue, "As many as we can get." So now, we have another reboot of the franchise with "Spider-Man: Homecoming,"  a title that has multiple meanings. In the broadest sense, it reunites the character with others in the so-called Marvel Cinematic Universe, notably Robert Downey Jr.'s Tony Stark, alias Iron Man (with Gwyneth Paltrow and Jon Favreau from that series also present).
Here, Stark becomes a mentor of sorts to young Peter Parker, now played by Tom Holland, giving him a special spider-suit that can do all sorts of amazing things like his own Iron Man outfit. Making the web-slinger so high-tech may earn mixed reactions; sure, it's great from a standpoint of what the special-effects wizards can do, but it also puts the character on a different plane in terms of ability and messes with the original concept.
Still, Parker needs all the help he can get, thanks to a villain known as Vulture (Michael Keaton, smartly and effectively crossing the line from his own superhero days as Batman). That bad guy is ready to use alien technology to do some nasty things on Earth, so there is cause for the new wonders of the Spidey suit.
---
---
Any movie that introduces a new Spider-Man is sure to show him getting used to his capabilities, and "Homecoming" – marking a huge step up for indie-movie director Jon Watts ("Cop Car") – certainly trades on that. As familiar as it is, it's also joyful, thanks to the enthusiasm actor Holland brings to it. His Peter Parker doesn't take us all the way back to the very inception of the saga, but picks it up sort of midstream, as he's adjusting to being his alter ego.
One neat touch is that the new suit won't let him access certain enhancements Stark doesn't think he's ready for yet. Simply by their existence, you just know our friendly neighborhood Spider-Man is going to find a way to break into them early.
A clear sign that time is marching on is that Aunt May is now played by Marisa Tomei, the youngest of the actresses to have that role. The new Spider-Man is substantially younger, so it works, though some viewers may be unsettled by the picture's definition of what and who now qualifies as "older." On the other side of that coin, veteran talent Tyne Daly also is a welcome presence in the supporting cast.
Is another new "Spider-Man" really necessary, especially so relatively soon? That point can be debated, but at least in "Homecoming," he still does whatever a spider can. And then some.
---