---
Luke Maye of the North Carolina Tar Heels
---
In what is turning out to be a back-and-forth season for a lot of NCAA Basketball teams, the rivalry between Luke Maye and his defending NCAA champion North Carolina Tar Heels versus the Duke Blue Devils should be as intense as ever when the two teams meet up for the first time this season, Thursday, February 8 on ESPN.
While coach Mike Krzyzewski's Duke team has pretty much been a top-ten unit this season, things haven't been so easy for Maye and the 'Heels, who dropped to No. 20 after consecutive losses to Florida State and Virginia a month ago. These came shortly after a 75-70 embarrassing upset in late December to Wofford, a team some have never even heard of.
Ranked fifth at the time of the Wofford loss, the Tar Heels know that when playing up to their potential, they can run with the best of them. Enter Maye, who seemed destined to right the ship in Chapel Hill when he responded to the bad stretch with a 32-point, and 18-rebound effort in a 30-point drubbing of Boston College.
Maye, of course, was one of the heroes of the 2017 NCAA Tournament, sending UNC to the Final Four with a last-second jumper to beat Kentucky in the Elite 8. Now a junior, Maye is having a breakout season, averaging 18 points per game while playing close to 32 minutes, leading the team in points, rebounds and minutes, giving Carolina fans hope for another championship run.
---
Luke David Maye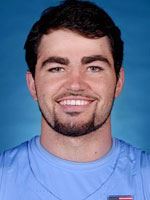 Born: March 7, 1997
Birthplace: Cary, North Carolina
Height/Weight: 6 foot 8 inches / 240 pounds
Team: North Carolina Tar Heels
Class: Junior
Position: Forward
No.: 32
Honors and Achievements: NCAA Champion, 2017; South Regional Most Outstanding Player, 2017