---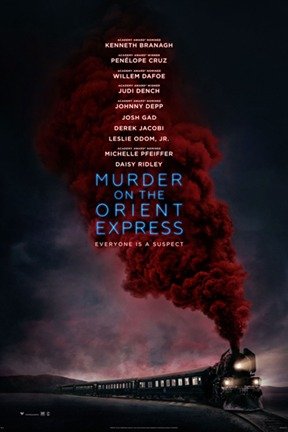 Any version of "Murder in the Orient Express" has a big challenge in matching, much less topping, the superb 1974 version directed by Sidney Lumet.
Kenneth Branagh is a notable filmmaker in his own right, and he's taken that challenge as both director and star of the latest retelling of Agatha Christie's mystery about the killing of a businessman aboard the legendary luxury train. If you know the story, you know the solution – so it's really about the style of any given version.
The new "Murder on the Orient Express" does have style, and its visual beauty really is something to see. By its nature, the story is claustrophobic as detective Hercule Poirot – played by Branagh, who sports a trademark of the character, a great mustache – questioning various passengers and staff members about the murder victim (Johnny Depp here) while the train is trapped by weather.
---
---
As past versions have done, this one gives us an all-star cast portraying those who may know nothing or everything about the murder. Penelope Cruz, Judi Dench, Josh Gad, Michelle Pfeiffer, Derek Jacobi and Daisy Ridley (in what effectively is a warm-up for her "Star Wars" return this holiday season) are among the others on board this time, and while it's fine to do some star-seeing as they show up, the parts ultimately don't jell the way they did when Albert Finney was Poirot in the mid-1970s.
Various performers have played the Belgian sleuth, from Tony Randall to Alfred Molina, but really only two have made it their own: Finney, who rightfully earned an Oscar nomination for getting every quirk of Belgian sleuth Poirot down pat (look at many of his other roles, and you see just how much work he did on his "Perrot," as co-star Richard Widmark called him in the film); and the masterful David Suchet, who had the part numerous times in capers shown on PBS, including his own "Murder on the Orient Express."
It's understandable that Branagh would want to try to put his own stamp on the character, but do too much of that and you move away from the essence that Christie devised. Branagh's natural brio yields a take on Poirot that doesn't have a lot to do with Christie's creation, but he deserves credit for making a run at it while clearly having so much else to do on the production.
Thanks largely to its look, you may not be sorry that the newest "Murder on the Orient Express" is on the tracks, but the story has taken better rides – and one in particular.
---
---