---
'Killing Eve' – Twisting the knife in Season 2
---
---
When last we saw Eve and Villanelle in the Season 1 finale of "Killing Eve," the ex-MI6 agent and the psychopath assassin played respectively by Sandra Oh and Jodie Comer appeared on the verge of consummating their mutually obsessive relationship.
Then the former stabbed the latter in the gut with a switchblade to Villanelle's pained utterance, "I really liked you."
Now as the sophomore round of the stylish, darkly comedic thriller opens Sunday, April 7, on BBC America (and is simulcast this season on sister cablenet AMC), the storyline picks up 30 seconds after the fact with the two women in flight: a freaked-out Eve on a train back to London to evade what she assumes is a murder rap, and a bleeding Villanelle staggering the streets of Paris desperate to get to a hospital.
But neither can get the other out of their minds, so it appears this love/hate relationship is far from over. In fact, as the two actresses told a recent gathering of journalists in Pasadena, Calif., it's about to enter a new phase.
---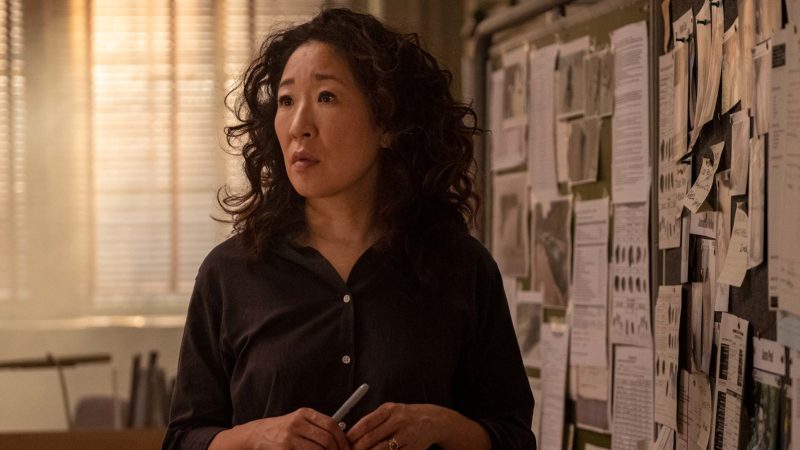 ---
"I think what is most interesting about Eve's stabbing Villanelle at the end of Series 1," Comer says, "is Villanelle's reaction to that and just how … emotionally she perceives that. And I think it both affects them and changes them in a way neither of them are quite expecting. Also, (it) means that at the start of the (second) series we see Villanelle in a very different way. You know, she has no control of the situation."
Oh agrees.
"And I think you see them vulnerable in slightly different ways," the recent Golden Globe winner says. "They've crossed a line and there's no way of going back. … And I think we have a lot of energy at the beginning of the series, and that pushes both of them into a different place of vulnerability."
Beyond that, the two actresses were offering few details on the new season, other than to say they're both enjoying playing their characters. Comer, in particular, relishes living in the skin of Villanelle, a paid killer who, like her, adopts different personas for her job.
"I always viewed her as an actress sometimes," Comer says, "because I think that she does her homework and she learns her lines. And you know, she's very proud and she wants to do a good job, so I could kind of relate to her in that sense."
---