---
Brit actress feels at home on show's set
Juno Temple has nothing but admiration for her "Ted Lasso" co-star Hannah Waddingham.
Indeed, as Keeley Jones, the promotional director for the A.F.C. Richmond football club owned by Waddingham's Rebecca Welton in the Apple TV+ comedy, the 32-year-old British actress spends a lot of time with her on and off screen and she says her friendship has been invaluable over the three years she's known her.
"I can genuinely tell you that my life has been forever bettered by having Hannah Waddingham come into it," Temple exclaims. "She is truly one of the most inspiring women I've ever been lucky enough to work with. And doing scenes with her feels like home, it feels like a safe place, and I love her endlessly. I really do. I'm sure that sounds cheesy and silly but that's the truth."
The currently streaming second season finds Keeley continuing to flourish in her role with the team while she moves forward in her relationship with Richmond player Roy (Brett Goldstein). As for specifics, Temple understandably demurred, lest she give away spoilers. But she will allow that like Season 1, there will be plenty of surprises for viewers – just as there were for the cast.
"We get scripts very last minute," Temple explains, "so we're also kind of living our character's existence because we don't know what's going to happen next and you can't dwell on the past because you've got to be in the present because that's what you've just got handed."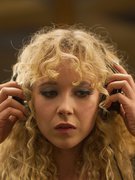 Full name: Juno Violet Temple
Birth date: July 21, 1989
Birthplace: London
Family: Single; father Julien is a filmmaker; mother Amanda is a producer
TV credits: "Drunk History," "Vinyl," "Dirty John," "Little Birds," "Ted Lasso," "Mr. Corman" (forthcoming)
Movie credits include: "Pandaemonium" (2000), "Notes on a Scandal" (2006), "Atonement" (2007), "Year One" (2009), "Greenberg" (2010), "Kaboom" (2010), "Little Birds" (2011), "Killer Joe" (2011), "Jack & Diane" (2012), "Brass Teapot" (2012), "Afternoon Delight" (2013), "Lovelace" (2013), "Maleficent" (2014), "Safelight" (2015), "Away" (2016), "The Most Hated Woman in America" (2017), "One Percent More Humid" (2017), "Wonder Wheel" (2017), "The Pretenders" (2018), "Lost Transmissions" (2019), "Palmer" (2021)
Did you know: Was named after a mountain called Juno Temple near the Grand Canyon, which her parents visited during her mother's pregnancy