---
Jamie and Claire go to France to save Scotland in Season 2 of 'Outlander'
Why Claire can't can't go back to the 1940s on 'Outlander'
As Season 2 of Starz's "Outlander" gets going this week, lovers-across-the-centuries Claire and Jamie exchange the blood and guts of Scotland for a blood-letting of another sort in France, but still have the same objective.
Returning Saturday, April 9, the new season finds 18th century Scottish warrior Jamie Fraser (Sam Heughan) and his wife, 20th century nurse Claire Randall (Caitriona Balfe), setting sail for France with the intention of infiltrating the Jacobite rebellion and thus prevent the disastrous Battle of Culloden that would kill or wound thousands of Scottish troops in 1746.
Jamie and Claire are catapulted into the world of French society, where intrigue and parties are easier to come by than political gain and back-stabbing is the sport du jour. Of course, altering the course of history comes with a price and that weighs heavily on the couple as they try to prevent the extinguishing of Scottish life as they know it.
As the season opens, Jamie is still dealing with the emotional scars left by his rape at the hands of the sadistic Black Jack Randall (Tobias Menzies) in Season 1. But as Heughan explained to a recent gathering of TV critics in Pasadena, Calif., Season 2 will bring about renewal.
"Obviously we go to Paris on this mission, and we're there for a reason," the 35-year-old Scottish actor says. "But Jamie's definitely still affected by the trauma. I think time is a great healer, but ultimately, he puts his whole body and soul into this mission about changing history, and then there is a great revelation that kind of cures him or brings him out of himself, which I can't really tell you what that is, but it certainly brings back the old Jamie."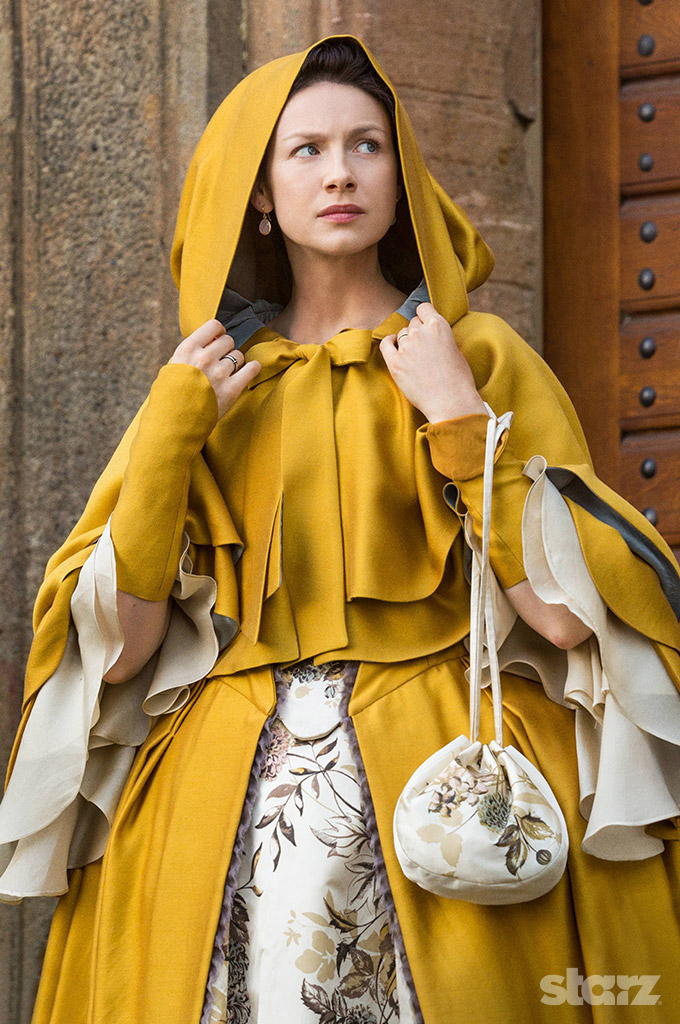 As for Claire, she starts Season 2 back in 1948, despondent about where she is and pregnant with Jamie's 18th century child, a fact of life she then has to explain to Frank (Menzies), her 20th century husband and Black Jack's descendant.
"I think as much when Claire first encounters Black Jack and she can't fail but to see Frank in him and believe that, you know, somewhere there is that connection," the Irish actress, 36, says, "I think when she goes back, there is also that reverse thing where every time she looks at Frank, she can't help but see Black Jack. There's many layers of why that relationship is difficult when she goes back. She's definitely not the same woman that left."
Heughan had to undergo extensive fight training for the battle scenes of Season 1 and he even had to learn to duel. But in Season 2, he says, the warfare will be much more subtle.
"It's more politics and backstabbing and poison. It's more hidden. There's a lot more politics at work and a lot more danger, so it's a different kind of world," he says. "But we certainly do go back to Scotland where we go back to the mud and blood and gore. So there's something for everyone."