---
Fanning Out
---
CBS gives comedian and talk host a post-AFC Championship slot
---
He may be a star of the late-night hours, but James Corden also is ready for primetime in CBS' view.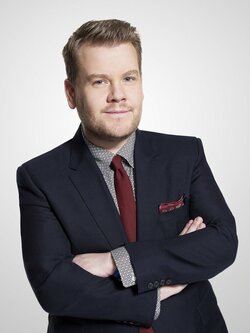 That feeling has existed for a while, as proven by the Englishman's stints hosting the Grammy and Tony Awards on the network, and the fact that he'll soon also be the host of its talent competition "The World's Best." Moreover, "The Late Late Show With James Corden" has been given several earlier-hour showcases – including the one that will follow football's AFC Championship game between the Kansas City Chiefs and the New England Patriots on Sunday (Jan. 20). Among Corden's guests will be Chris Pratt, Elizabeth Banks, Will Arnett and NFL veteran Russell Wilson.
Though "Magnum P.I." and local news will air first after the game, CBS is banking on enough viewers sticking around for Corden, who will offer variations on the elements that have made his weeknight program popular … particularly "Carpool Karaoke," the segment that finds him at the wheel while driving around with a music star, belting out many of the given singer's hits. Recent "passengers" have included Ariana Grande, Shawn Mendes and icons Barbra Streisand and Sir Paul McCartney, the latter session drawing enough attention to qualify for a later, expanded primetime special of its own.
Explaining the genesis of "Carpool Karaoke," Corden has told us, "We had shot a sketch in 2011 for 'Comic Relief,' for Red Nose Day, with myself and George Michael – me playing a character from a TV show I'd done at home (in England). And we had this idea that George and I would be singing in a car, and the whole sketch had a mass of people in it, and it did very, very well. People would talk to us about this moment of, "Ah, you and George singing in the car, it was so great." And they loved it.
"So, when we got here and we were thinking about (starting "The Late Late Show"), we were thinking, 'Well, what could it be?' You know, you're throwing around a million ideas. And on this one, we said, 'You know, we're relocating to Los Angeles. People talk about the traffic here all the time and carpool lanes. And carpool and maybe a singer and carpool karaoke, is that a thing? Could it be a thing? I don't know.'"
It turned out to be "a thing," indeed, with Mariah Carey as the first artist who agreed to do it … and Jennifer Hudson, Justin Bieber, Rod Stewart and Carrie Underwood among those who soon followed. A 2016 drive with Adele became a particular sensation, having amassed more than 190 million online views since its original airing.
"It's pretty easy," the ever-cheerful Corden maintains of keeping his eye on the road while his mind is on the music. "You just mostly drive in a straight line, and you are in a convoy of a few cars. And then you sort of turn around and come back, and that's it. I think my driving is OK. I'd rather do it here than in London. That's harder."
Though Sunday's "Late Late Show" telecast is another sign of the support he's had from – and success he's had on — CBS, Corden asserts, "I never really wanted to be a talk-show host. It's never something I aspired to be or wanted to be, and it was only really (appealing) through realizing that this show could just be a creative platform where I could make whatever hour we wanted to make, and we could do anything and we were actually bound by nothing. That's when it becomes incredibly exciting."
---