---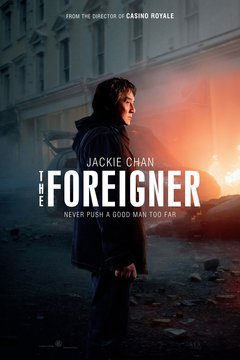 Since the last time we saw him on the screen, Jackie Chan has become the owner of an Oscar … an honorary one for his contributions to, obviously, martial arts in the movies.
Even now, some time after the statue was presented, that may come as a surprise to people. However, if special Oscars are for unique contributions to the film industry, Chan certainly has accomplished that – and has enjoyed global popularity in the process.
Maybe that honor made him think he should take his career more seriously. "The Foreigner" suggests that, since it offers a much more grim Chan than we're used to. His character is given a good reason to be that way, since his young daughter becomes a victim of a bombing in London.
---
Bent on revenge, the man pursues a politician who's a former member of the IRA. He's played by Pierce Brosnan with his typical smooth skill, and what's neat about his appearance in "The Foreigner" is that it reunites him with the director who introduced him as James Bond, "GoldenEye's" Martin Campbell – who also launched Daniel Craig as Agent 007 in "Casino Royale."
"The Foreigner" really does come down to Chan vs. Brosnan, and if you're a fan of either or both, you'll probably be satisfied. Each does what he does, and if that's what you're paying to see, you'll get it. In very big doses.
Brosnan pretty much trades on the image he also evoked recently in television's "The Son," playing it quite gruff … but that's what's expected of his alter ego here, who basically regards Chan as a troublesome insect that needs to be swatted aside, potentially permanently. Chan has tricks up his sleeve, though, using his wits and the occasional explosive to make his way to his ultimate target. One might even say that a certain British secret agent would be admiring of his skills and timing.
The only real concern about "The Foreigner" is that it may start a permanent change of Chan's screen image, which could continue to take some getting used to. Part of his appeal is that he's usually evoked a spirit of fun in putting his feet and fists into action – and in "The Foreigner," the action is still there, but it's hard to call it "fun."
---