---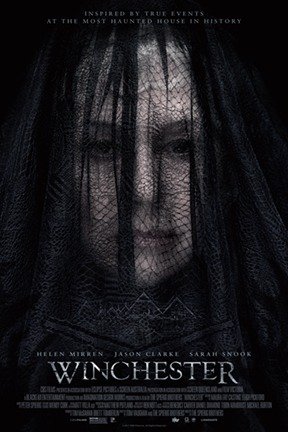 When you think of Helen Mirren, you probably – and rightfully – think of her Oscar-winning performance as "The Queen."
However, both before and since that signature role, she's shown a lot of variety over the years in other projects raging from "White Nights" to "RED." She does so again by going the supernatural-thriller route in "Winchester," an early-19th-century melodrama casting her as the widow of the man who helped bring the Winchester rifle to market.
The film combines that background with what amounts to a ghost story … the ghosts being those of people who were killed by the rifles. Those poltergeists have taken refuge in the woman's mansion, but as you might anticipate, she can't convince others of that. In fact, the board members of the rifle company come to the conclusion that she's lost her mind, so they enlist a doctor (Jason Clarke) to go to the mansion and determine just what her level of sanity is.
---
---
It turns out that he also has a history that involves losing people to gunshots, so he's more sympathetic to the situation – and also to the Mirren character – than his employers might expect. A lot of talking is involved between Mirren and Clarke … like, a really whole lot of talking, to the degree that any scares "Winchester" might have to offer are offset almost completely by the bountiful dialogue that obliterates the scares.
That's especially confounding since the same directors made "Jigsaw," the most recent chapter of the "Saw" series in which the shocks are everything. Then again, when you have Helen Mirren on board, you want to make sure you give her enough to do.
Having her aboard a project like this cuts in two ways. She's so stately a presence, it could be off-putting to some moviegoers who might not see "Winchester" as the garden-variety horror movie that it actually is. And for those who appreciate Mirren being in the film, they might expect more than it delivers because she's present. That's a two-way conundrum, to be sure.
"Winchester" does make substantial use of Mirren, but because of how it does and the type of movie it is (or at least wants to be), that ends up being more of a minus than a plus in the end.
---