---
---
At first blush, Holden Ford and Bill Tench seem to be an unusual match for FBI agents.
While Ford is young, a college grad and seemingly wet behind the ears, Tench is middle-aged, old school and a grizzled veteran of the law enforcement wars.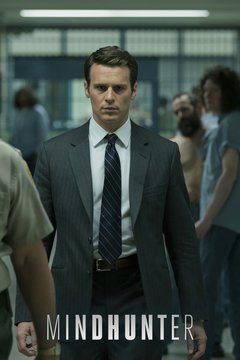 But both are analytical, thoughtful and fascinated with the workings of a serial killer's mind. And as played by Jonathan Groff ("Looking," "Glee") and Holt McCallany ("Sully," "Blue Bloods"), they're the central characters in the new Netflix crime drama "Mindhunter."
Set in 1979, the series follows the two agents with the Bureau's Behavioral Sciences Unit as they interview incarcerated serial killers to understand how these criminals think, then apply that knowledge to ongoing investigations. While their boss Shepard (Cotter Smith, "The Americans") isn't crazy about their methods, they get help from Bureau psychologist Wendy (Anna Torv, "Fringe") and Ford's girlfriend Debbie (Hannah Gross, "Unless"), a doctoral student.
The series is based on the book "Mind Hunter: Inside the FBI's Elite Serial Crime Unit" by John E. Douglas, on whose experiences with the FBI it is loosely based.
For McCallany, the series reunited him with David Fincher, with whom he collaborated on the 1999 drama "Fight Club," and also allowed him to delve into a subject he found fascinating.
You could spend a lifetime researching this subject," the actor says. "What are the root causes? What are the early warning signs? What are the common attributes men have that commit these horrible crimes? And I say men because in 99 out of 100 cases we're talking about men. And so understanding what the problems are in a particular serial killer's childhood – whether it's abandoned by the father, brought up by an abusive mother. Was he a guy who liked to start fires as a child or torture animals? And every case is different and every one of these kind of their own brand of insanity, if you will.
Viewers will certainly recognize the names of the killers interviewed, such as in the first two episodes California murderer Edmund Kemper, but Netflix was reluctant to release others. The series has the tagline "How do you get ahead of crazy if we don't know how crazy thinks," which one could also say is the mission statement of Tench and Ford.
So confident is Netflix in this show that it's already renewed it for a second season. That suits McCallany just fine as he's thinking it has the legs to go five.
"I think it's going to be a really interesting show," he says, "because it's very cerebral, it's very psychological and it'll be the only show in the history of American TV where you follow two FBI agents for five seasons and neither of them ever pulls his gun and says, 'Stop! FBI.' That's not what our show is."
---