---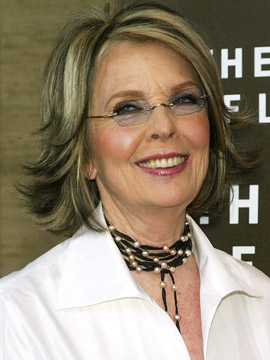 "Well, lah-dee-dah."
Diane Keaton may not be quite as nonchalant about receiving the American Film Institute's Life Achievement Award as she was in her Oscar-winning "Annie Hall" performance. That's certain to be among her portrayals cited when she receives the AFI honor in a new TNT special Thursday, June 15, a week after the event's taping at Hollywood's Dolby Theatre. (It also will be shown July 31 on Turner Classic Movies, in tandem with "Reds" and "Manhattan Murder Mystery.")
Here's a subjective list of Keaton's best movies, all likely to be featured in clips during the star-studded program.
"The Godfather, Part II" (1974): Keaton had more of a workout in the sequel than in the original, as her Kay became more aware of the nature of her gangster husband Michael Corleone's (Al Pacino) "business."
"Love and Death" (1975): A terrific Keaton delivers some hilariously smart lines as the not-as-enamored love of a distant relative (Woody Allen) in Czarist Russia.
"Annie Hall" (1977): The ultimate Keaton role came in Allen's witty, hugely creative tribute to their real-life romance that also made the actress something of an alternative-fashion icon.
"Looking for Mr. Goodbar" (1977): A strong reminder that Keaton wasn't all about laughs, this drama based on Judith Rossner's best seller cast her as a promiscuous schoolteacher.
"Baby Boom" (1987): Another instant Keaton classic, this comedy featured her as a workaholic whose life changed radically through her sudden guardianship of an infant.
"The Good Mother" (1988): Powerful drama – as directed by Leonard Nimoy – again comes from Keaton as a divorcee whose new relationship (with Liam Neeson) could mean losing custody of her young daughter.
"Father of the Bride" (1991): Keaton made a charming "wife" for Steve Martin in this update of the classic about a dad distraught about his daughter's (Kimberly Wiliams) upcoming nuptials.
"The First Wives Club" (1996): Keaton, Goldie Hawn and Bette Midler are a dynamic trio as jilted spouses who live the credo, "Don't get mad, get everything."
"Something's Gotta Give" (2003): Keaton's five-minute (approximately) crying jag is a high point of her screen career and of her teaming with Jack Nicholson in this mature but amusing romance.
"Morning Glory" (2010): This underrated television-morning-show comedy gives Keaton a terrific showcase as a broadcast-charmer, backstage-terror co-host.
---