---
How South Central reacted to Damson Idris, 'Snowfall'
When Damson Idris first landed the role of drug dealer Franklin Saint in the FX crime drama "Snowfall," he spent some time in South Central Los Angeles to research how such a character would walk, talk and interact with others.
Now, with three seasons gone by and a fourth premiering Wednesday, Feb. 24, the 29-year-old British actor has gotten plenty of validation from the people from that neighborhood.
"You talk about people like YG, Nipsey Hussle, the Game, Dub C, Snoop Dogg," he says, "these are all people I knew personally, who sat me down, looked me in the face and said, 'Job well done. You look like, sound like, walk, talk, act like the guys I grew up with.' … And I was just really blessed and honored to receive their blessing and to receive their salute because they were the true people who I wanted to impress."
As the new season opens, it's now 1985 and the crack epidemic is raging, which is good for Franklin's business but bad for the neighborhood where he lives. He's also in a weakened state and walking with a limp, having been shot by on-and-off girlfriend Melody (Reign Edwards) in the Season 3 finale.
"This season, we find Franklin with a broken spirit," Idris explains. "He's less sure of himself, less sure of whether he can actually be the boss and take control of this empire and take control of this inner and outer conflict that's happening around him. So he's obviously been shot three times and he's very weak physically but he's also weak mentally. And as the season progresses, we're witnessing Franklin come back into his own."
Damson Idris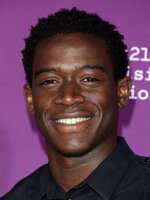 Birth date: Sept. 2, 1991
Birthplace: London
Education: Has a bachelor of arts degree in theater, film and television studies from Brunei University in London
Family ties: Was raised by a single mother with three brothers and two sisters
TV credits: "Miranda," "The Missing," "Babylon," "Doctors," "Casualty," "The Twilight Zone," "Black Mirror"
Movie credits: "My Brother the Devil" (2012), "City of Tiny Lights" (2016), "Megan Leavey" (2017), "The Commuter" (2018), "Astral" (2018), "Farming" (2018), "Outside the Wire" (2021)