---
---
Ask Roger Mooking what dishes or barbecue contraptions stood out the most while shooting Season 7 of Cooking Channel's "Man Fire Food," and he will tell you it's more about the people.
"I met this really cool family in East L.A. this year," he says. "They built a smoker and they put it in their backyard. They do pop-ups out of their backyard, basically, and the community comes out. They line up at their back gate and they're slinging barbecue out of the back of their backyard. It's really cool and it's crazy and there's just so many interesting personalities in the mix.
"This was pretty elaborate," he continues. "They had a big smoker there, they had a huge pile of wood. Like they're legit, doing this on the weekends and people know about it. People coming from all over L.A., driving into this little place in the 'hood in East L.A. and knocking on these people's gate and there's a line and it's really cool."
As the new season opens with the first of 13 episodes on Wednesday, May 30, the Caribbean-born, Canada-raised chef and host is back out on the road to check out the dishes and homemade contraptions people fashion to put flame to food, be it via grill or smoker. Among the stops this go-round are Houston, to check out a custom-built trailer that can cook up to 600 pounds of meat at one time; Napa Valley, Calif., where locals cook large cuts of beef on a retrofitted asado cross; South Texas, to watch a massive smoker in action; and Southern California, to visit all manner of outdoor kitchens.
In Wednesday's opener, Mooking goes to San Antonio, to see how pumpkins are roasted directly on coals, then peeled, seeded and smashed into pieces to be used in a salad.
"That was really cool," Mooking says with a laugh. "We smashed these pumpkins with a shovel after we roasted them right on the coals on the ground and made a salad out of that – it was really, really good – with some (goat) cheese and some arugula and stuff. And very, very simple. The presentation was just fun and we got to smash some pumpkins."
---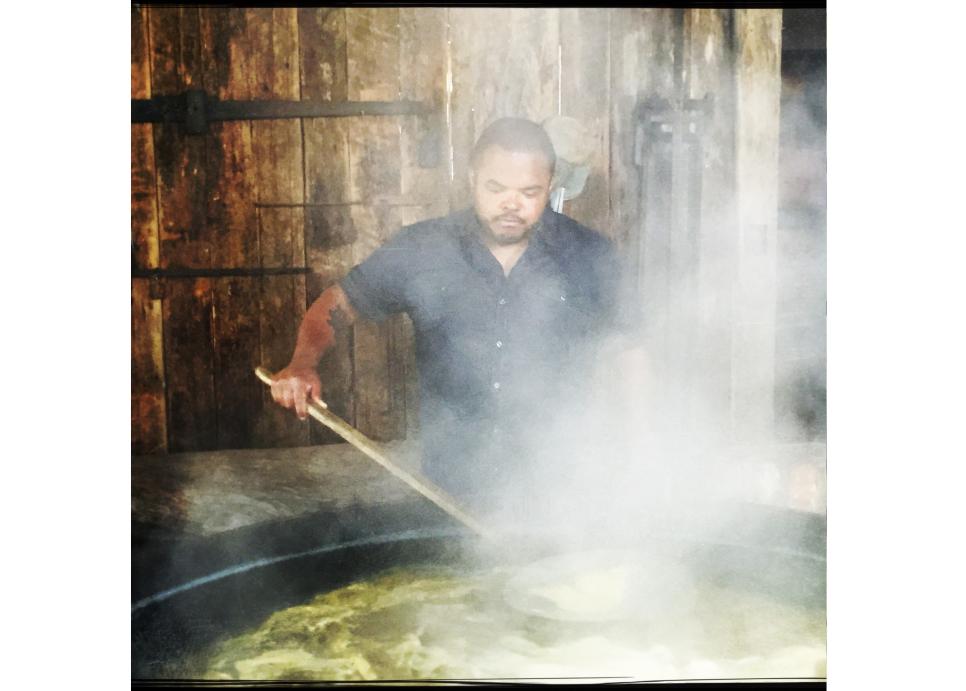 What book are you currently reading?
" 'Hyena' by Rude Jude (Angelini) (laughs)."
What did you have for dinner last night?
"I had chicken and mushrooms hot pot with jasmine rice."
What is your next project?
"I don't like to talk about next projects. I just like to do it and then release it, so I never reveal what I'm working on. There's lots. I've always got a million projects on the go and people find out about them when I release them."
When was your last vacation, where and why?
"Last year, I went to Italy. I went to Milan and Bologna and it was fantastic."