---
---
The filming of Season 3 of "Code Black" has been done for a while, but Marcia Gay Harden remains breathless thinking about it.
That's understandable, since the Oscar- and Tony-winning actress again found herself amidst constantly moving cameras in the CBS drama about an intensely active Los Angeles hospital emergency room that returns Wednesday, April 25. Rob Lowe, Boris Kodjoe, Luis Guzman and William Allen Young are among other stars continuing their roles, with Moon Bloodgood a new addition for the third round as a paramedic.
"You develop an ability to learn how to contain your energy," Harden reasons, "how to mete it out during the day, which is typically 15 hours if you're in all the scenes. The days when we're all in the emergency room together, those take the biggest toll on us. There are just so many people crammed into that room, with three camera crews … but it's so fast-paced and high-energy that when they call 'Cut!,' you don't necessarily want to reset everything, because they might pick right back up again. So you stay.
"And there's a fourth camera, a 'floater' that they don't even talk about," Harden notes. "It's technically wonderful, but at any moment, you can find it literally under your chin staring up your nose."
It's also an active spring in other ways for Harden, since it sees the May 1 publication of "The Seasons of My Mother: A Memoir of Love, Family, and Flowers," her book that parallels her own journey and that of her mother … an expert in ikebana, Japanese flower arranging, who has struggled with Alzheimer's disease.
"We want to make a difference, to bring awareness" with the book, says Harden. "So many people are suffering from Alzheimer's, and it just seems like it's on the back burner in terms of what's important in law and in medicine. I didn't think I could write, but my old buddy Alvin Sargent (the Oscar-winning screenwriter of 'Ordinary People' and 'Julia') said, 'Just write for 20 minutes a day, Marcia.' One day, I did, and it turned out to be one of the chapters in the book. And he said, 'Uh-huh. You can write. Keep going.' So, I did."
---
Marcia Gay Harden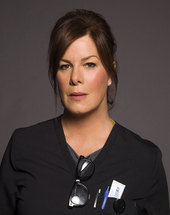 Birthdate: Aug. 14, 1959
Birthplace: La Jolla, Calif.
Current residence: Los Angeles
Marital status: Divorced; has three children
Other television work includes: "How to Get Away With Murder," "The Newsroom," "Trophy Wife," "Law & Order: Special Victims Unit," "Tron: Uprising" (voice only), "Royal Pains," "Damages," "The Education of Max Bickford," "Sinatra," "Fever"
Movie work includes: "Fifty Shades Freed," "Fifty Shades Darker," "Fifty Shades of Grey," "Grandma," "You're Not You," "Parkland," "Noah" (voice only), "Detachment," "Whip It," "The Mist," "Into the Wild," "The Hoax," "American Dreamz," "Bad News Bears," "Welcome to Mooseport," "Mona Lisa Smile," "Mystic River," "Pollock" (her Oscar winner), "Space Cowboys," "Meet Joe Black," "Flubber," "The First Wives Club," "Spy Hard," "The Spitfire Grill," "Used People," "Miller's Crossing"