---
---
Jeremiah Tower is the most important chef you've likely never heard of, and that's something Anthony Bourdain wants to change.
In "Jeremiah Tower: The Last Magnificent," executive produced by the "Parts Unknown" host, directed by Lydia Tenaglia and premiering Sunday, Nov. 12, on CNN, viewers are introduced to a self-taught chef who established his reputation as a culinary innovator with his 1970s stint as executive chef at the legendary Berkeley, Calif., bistro Chez Panisse, where his experimentation with local ingredients gained him worldwide acclaim.
"We had been a French restaurant and … most ingredients were not up to French standards for making French food taste the way it should," Tower explains. "So I just looked around and said, 'Well, the hell with all of that. I'm beating my head against the wall. I'm just going to use whatever local ingredients there are.' As I had been doing before, but I was trying to fit them into a French mold. So I thought, 'I'm just going to cook them as they are, present them as they are.' And that was the California regional dinner. We took food from everywhere from Sonoma to Big Sur and Monterey Bay and did it. So the menu was all in English and the wines were all from California and so all of that was new."
After leaving there due to philosophical differences with his partner Alice Waters, he went across the Bay to San Francisco in 1985 to open Stars, where a culinary revolution known as nouvelle cuisine or California cuisine was born. It was here that Tower became a superstar in the culinary world, and Stars, one of the world's most profitable restaurants, became the place where the rich and famous would fly in to dine.
After selling Stars in 1998, Tower dropped out of sight for nearly 20 years, only to resurface in the most unlikely of places, New York's fabled Tavern on the Green, where he created dinners en masse for tourists and found himself locking horns with ownership.
"I have a fatal attraction for the slim chance and that was certainly a slim one," he says. "… I thought perhaps we could make it back into a place where New Yorkers could go, but the owners were inept, so that didn't work out well. I nearly turned it around. … The chef, one of the owners – it was a pair – did ask me once, 'Is it true that lamb has white and dark meat?' And I said, 'Well, only if it has feathers.' And he got pissed off. I knew, no pun intended, I was then cooked."
---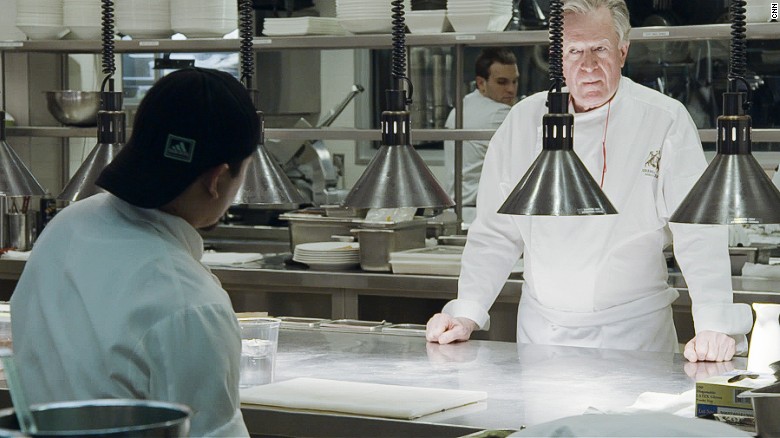 ---
What book are you currently reading?
"It's called 'The Son' by Philipp Meyer. It's about Texas and Mexico and it's sort of the new equivalent of a 'Thorn Birds' or 'Giant' or something. And it's about the Comanche, so it's fascinating to me."
What did you have for dinner last night?
"It was sort of a late lunch and it was blood sausage tacos with a salad of radishes and cilantro and yerba buena, a mint. And a Chilean sauvignon blanc. And it's mandarin orange season here, so I had about two of those for dessert."
What is your next project?
"My next project is a book that is being finished this weekend in New Orleans by my partner who's an editor and photographer, and so that book will be out in about a month."
When was your last vacation, where and why?
"I haven't taken one in a long time. … You know, sit on the beach and stare at the water, Hawaii-style, or get a villa and cook for two weeks. I haven't done that in a long time because I go diving in Cozumel or out in the Pacific off of Cabo San Lucas. So those are the last vacations I took – diving."