---
---
Ted Allen has a long history with Martha Stewart, some of it even involving the series on which they're both currently employed, Food Network's "Chopped."
Allen, the host of the Tuesday competition series, has long been a fan of the entrepreneur, author and lifestyle expert, subscribing to her magazine, watching her shows and digesting her tips on design, entertaining and gardening with the diligence of an eager student.
Their paths first crossed in the '90s when he was an editor at Chicago magazine, trying to secure her as a guest contributor on one of his pages. Their meeting, he recalls, was memorable.
"Martha happened to be in town giving a bridal presentation … ," Allen explains. "And I arranged to meet her and serve her pierogies. I was just looking for a little bit of a bit to produce some comedy and so I got my hands on some pierogies and served them to Martha. And she signed her very first cookbook for me, she inscribed it, 'Nice try, Ted, but keep working on the pierogies.' And I showed her that inscription when she came to join our team and she said, 'Yeah, that's something I would write.' "
This season, Stewart is a recurring guest judge joining regulars Scott Conant, Amanda Frietag, Alex Guarnaschelli, Marcus Samuelsson, Geoffrey Zakarian and others to evaluate the creations of chefs across three rounds of culinary competition, with the winner taking home a $10,000 grand prize.
In Tuesday's episode, the contestants are tasked with making donuts that will meet the high standards of donut connoisseur Stewart – not an easy task, according to Allen.
"Martha Stewart has taught us to cook so many things but donuts are almost as iconic as Martha is …," Allen says. "And so this was a very intense battle."
---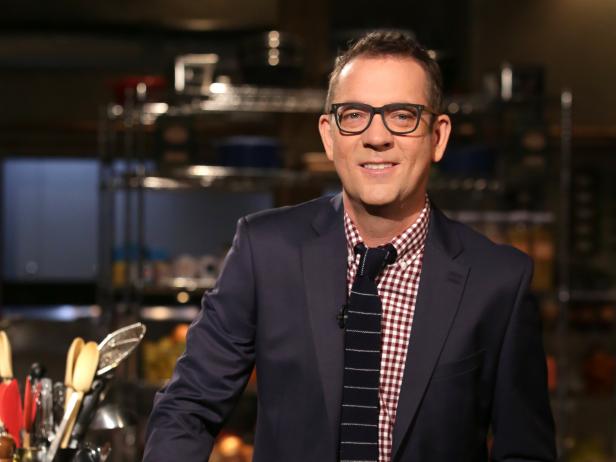 What book are you currently reading?
"I'm reading a book about Richard Nixon, who is a figure that has long fascinated me."
What did you have for dinner last night?
"From an excellent restaurant in my neighborhood called Dino, I had half a roasted chicken, perfectly cooked, … served with a very delicious creamy, cheesy polenta and some sautéed kale. And then some of my husband Barry's cookies for dessert."
What is your next project?
"I can't tell you because it's a secret. I'll just say it involves food and music."
When was your last vacation, where and why?
"I spent Memorial Day up in the Catskills with really close friends … . My friend Peter did most of the cooking and it was great."