---
Fanning Out
---
Source of Holly Hunter movie character becomes division president
---
You may not know Susan Zirinsky, but the rank-and-file of CBS News certainly does.
And they're about to know her in a different role … as their boss.
The much-respected producing veteran, who has had "48 Hours" as her main project for many years, had been considered a leading candidate to take over as executive producer of "60 Minutes." Instead, she's been given a considerably bigger new job (succeeding David Rhodes, with the change taking effect at the start of March) that also will put "CBS Evening News," "CBS This Morning" and "Face the Nation" under her direction.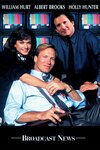 To those both within and outside CBS News, a guide of sorts to how Zirinsky operates exists: "Broadcast News," writer-director James L. Brooks' seriocomic 1987 movie about a network news bureau in Washington, D.C. Not only did Zirinsky serve as a technical adviser on the film, she's generally acknowledged to be the model for Holly Hunter's character, endlessly driven producer Jane Craig.
Among the elements of Jane that also are likely traits of Zirinsky:
Focus. Whether producing a special report for the first time or diverting from a conversation to tell someone a colleague's suddenly remembered whereabouts – then immediately returning to the conversation – Jane has her eye on the ball.
Creativity. With little time left to get a story to the control room in time to air, Jane pauses the process to have a painting photographed and inserted into the report, enhancing its overall effect.
Ethics. The derailing of Jane's romance with reporter Tom Grunick (William Hurt) comes from her discovery that he faked a reaction in a story that initially earned him raves from co-workers for his willingness to "be real."
Helpfulness. Early in his tenure at the network, Tom is allowed to choose any producer he wants for a military-related story he's doing. He wants Jane, and she agrees to help … even if she has to correct his reference to "millions" to "billions."
Independence. Jane speaks her mind even if it angers her superiors, one of whom sarcastically tells her it must be nice to "always believe you know better." To which she responds sincerely, "No. It's awful." She also faces rejection from peers when she addresses a convention and warns of a coming influx of "fun" stories that she fears will lessen the impact of newscasts.
Dedication. While they're still involved, Tom asks Jane if she has any vacation time coming. Her answer? Close to 20 weeks.
Loyalty. Jane stands by her non-telegenic reporter friend Aaron Altman (Albert Brooks) – who has deeper feelings for her – arguing for his inclusion in the special report she's producing, and also helping him cover for his embarrassment when he's ignored by the network's main anchor (Jack Nicholson).
Whether Zirinsky had/has regularly scheduled crying jags like Jane is her business … though that could have been strictly a James L. Brooks invention. However, there is enough of "Broadcast News" to indicate what an enduring original Susan Zirinsky is in the world of broadcast news, and how she's now likely to put an even bigger stamp on a department she's already proven her devotion to.
---