---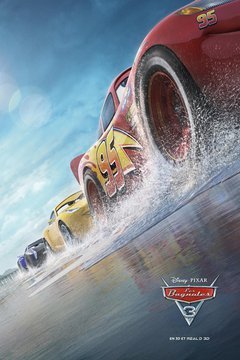 By the time any movie franchise hits its third chapter, it had better have something new to put forth.
The animated "Cars 3" falls back on familiar themes, but in the Disney-Pixar tradition, it makes enough clever use of real-world topics to be entertaining enough for its latest spin around the track … and also more than a little poignant, well before it reaches its home stretch.
Owen Wilson again supplies the voice of Lightning McQueen. the plucky vehicle whose star may be fading, as suggested by his surprise loss in a race to a much sleeker machine voiced by Armie Hammer. The dismayed Lightning then has to decide whether he has enough juice left to keep running, or if it's time for him to get and stay off the track.
He gets inspiration from a training car with the voice of comedian Cristela Alonzo (who had her own ABC sitcom for a brief shining season). And in a move that fans of the late Paul Newman will appreciate, his voice is invoked again as his character from the first film appears to Lightning as an encouraging vision.
That is no small element of "Cars 3," and it's actually quite clever that the filmmakers incorporate it. Newman's presence is drawn from material he recorded for the original movie that ultimately wasn't used (he had passed away by the time of "Cars 2"), and his family approved its use, noting that "Cars" had been a favorite project of his.
---
---
Of course, the animation in "Cars 3" is up to par with the traditional sheen of Disney-Pixar ventures. Automobiles always have been a particularly interesting area for the image designers, since the temptation might be to make them as fantastic as the imagination allows. They've always had a firm foot (tire?) in realism, though, and that's a smart part of what makes the franchise keep working.
The truth about any film series is that by the time you get to No. 3, you can pretty much know what to expect. The studio doesn't want to stray far from the formula that's been strong enough to inspire a third picture, and "Cars 3" is loyal to its heritage. It doesn't reinvent the wheel, but its engine keeps running reliably.
---