---
---
He may be small in size, but Ant-Man is big on entertainment.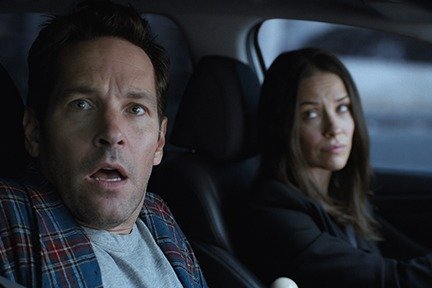 The sequel "Ant-Man and the Wasp" actually is more enjoyable than the first film, a major reason being that it lets the Marvel Universe take a breath from the relentless action of most other movies in the franchise. Make no mistake, there's sufficient mayhem in the Marvel tradition here, but there's also a very welcome and substantial dose of humor.
That's thanks largely to Paul Rudd, back as the star and a co-writer of the adventures of the hero who can alter his size greatly, be it much smaller or much bigger. His mission here involves something else of changeable size: a whole building, namely the lab of scientist Hank Pym, again played by Michael Douglas.
Bad guys want that laboratory, which can be shrunk down to briefcase size. Also involved in making sure that doesn't happen is Pym's daughter, who becomes the new Wasp as played by Evangeline Lilly. She's following in the footsteps or wingtips of her mother, Michelle Pfeiffer, who also figures into the plot.
"Ant-Man and the Wasp" treats the proceedings just seriously enough, while also being frequently amusing. Unfortunately, though, the movie skips the chance for a great in-joke: It's mainly set in San Francisco, and Michael Douglas famously starred in television's "The Streets of San Francisco." That chance for a chuckle is handed on the proverbial silver platter to the filmmakers, but it never comes. That might seem like restraint, but to others, it may just seem like a missed opportunity.
With that said, the "Ant-Man" movies are establishing themselves – after "Guardians of the Galaxy" – as the most good-humored part of the so-called Marvel Cinematic Universe. Other pictures such as "Thor: Ragnarok" also have benefited from the infusion of comedy, but "Ant-Man" is built for it very literally, and director Peyton Reed has been able to give both pictures the light touch they need amid the expected parade of special effects.
If the premise was played for laughs outright, it might end up as campy as "Mant" ("Part man, part ant!"), the movie-within-the-movie in the John Goodman-starring 1993 comedy "Matinee" … but the filmmakers here know where the line is, and that's tougher to hold to than some might think.
With Paul Rudd principally driving it, "Ant-Man and the Wasp" maintains a great and appealing spirit that truly is a Marvel in and of itself.
---