---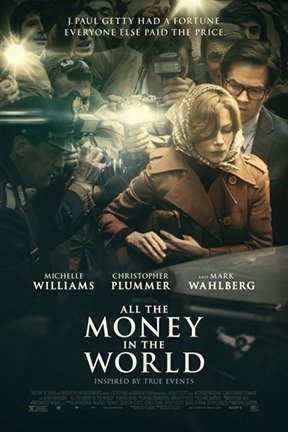 "All the Money in the World" has gotten a lot of attention for the close-to-the-wire reshoots that saw Kevin Spacey replaced by Christopher Plummer – but apart from that, how does it stand as a movie?
What's pretty amazing is that it fares quite well on that count, though not so amazing if you're familiar with the ever-reliable work of Ridley Scott, the expert director who's traversed various genres over the course of his career. Here, he tackles the true story of the massively wealthy Getty family at the time John Paul Getty III was kidnapped for a $17 million ransom.
He's played by Charlie Plummer, who is no relation to Christopher. Grandpa Getty – portrayed by Christopher – staunchly refuses to pay the money, prompting a rescue plan to be formulated by the victim's mother (Michelle Williams) and an ex-CIA man (Mark Wahlberg).
---
---
All of the performers are fine in "All the Money in the World," but it's really Christopher Plummer who walks away with the picture, and for more than the circumstances of his casting. Already an Oscar winner, he always has been one of the screen's most commanding forces, and the purposely cold approach he takes to his purpose here is to watch a master at work.
It's one of those performances that looms large over the film even when he's not physically on screen … which is reasonably often, a fact that made the reshooting and still keeping the original release date feasible. It's also smart storytelling, since screenwriter David Scarpa (working from John Pearson's book) realized the elder Getty would need to be seen only so much for his place in the story to be clear and effective.
Interestingly, the same tale is about to get another dramatized treatment in the very near future. The FX series "Trust" will offer Hilary Swank and Donald Sutherland in the Williams and Christopher Plummer roles, and the "Slumdog Millionaire" team of director Danny Boyle and writer Simon Beaufoy behind the cameras.
Still, the logistics of making "All the Money in the World" are now famously particular – and as much as Christopher Plummer gets large credit for the solid outcome, that also goes for director Scott. Even when they were under the gun, the result shows that these two accomplished pros knew just how to cash in on "All the Money in the World."
---