---
A teen on the autism spectrum navigates the already challenging times of adolescence in a promising new comedy series recently premiered on Netflix.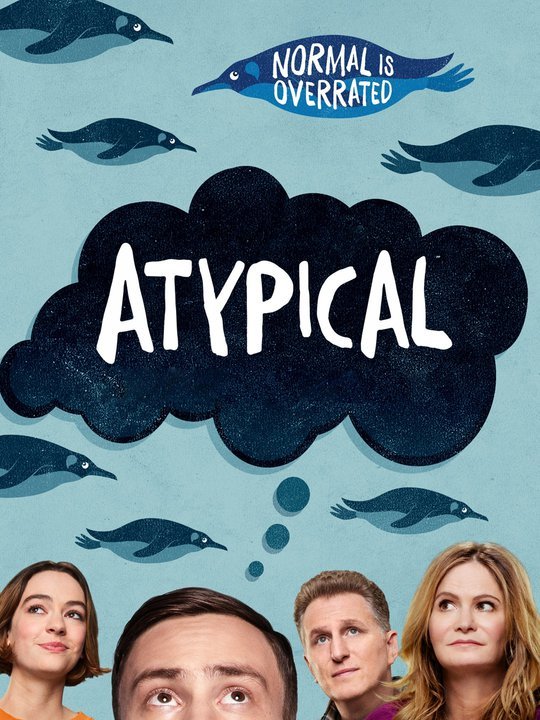 In "Atypical," an eight-episode half-hour series, Keir Gilchrist ("United States of Tara," "It's Kind of a Funny Story") stars as Sam Gardner, an 18-year-old who like any other teen seeks love, acceptance and independence but his condition at times can make that difficult, especially when it comes to meeting girls.
The idea of Sam becoming more independent is anathema to his mom, Elsa (Jennifer Jason Leigh, "Revenge," "The Hateful Eight"), who thinks this vulnerable boy, that she's nurtured through all his trials, will self-destruct out in the real world. But dad Doug (Michael Rapaport, "The War at Home," "Sully") wouldn't mind seeing his son become more independent, especially since Elsa has given their marriage short shrift ever since Sam was diagnosed. And sister Casey (Bridgette Lundy-Paine, "Irrational Man") just finds her older brother extremely annoying, but she has no problem getting in the face of anyone who gives him trouble.
The series is a passion project for creator/showrunner Robia Rashid ("How I Met Your Mother," "The Goldbergs"), who is close to someone on the spectrum and wanted to create something that treated the subject with respect without resorting to clichés.
"I was very interested in the idea that more and more people are getting diagnosed as being on the spectrum and diagnosed with ASD (Autism Spectrum Disorder)," she explains. "And so now there's this group of young people who know that they're on the spectrum and that they're interested in all the same things that any young person is: dating and connecting and independence. And I just thought that was a really interesting point of view for a story about coming of age and finding love."
---
---
The humorous opening sequence illustrates Sam's thought patterns. He's sitting, back straight up, on a bus because he's afraid to touch the back of the seat, but he realizes it must be OK because others are sitting back. He also surmises they must have thicker skin on their backs, much like Antarctic cod, which then makes him think of antifreeze in fish. That thought makes him laugh out loud as the other passengers look at him quizzically.
"If the comedy is going to come out of character," Robia explains, "then it's going to be pretty natural. I think that there are some real laugh-out-loud moments in this show, but it's not a show where we would sit there and be like, 'We need a joke in this spot. Because it's a comedy, there are not enough jokes on this page.' It's all hopefully very natural in its comedy and its dramatic moments. It comes out of the storyline and it comes out of the characters."
---